Finding The Balance Between
Marketing And Everything Else
As many know one of the hardest parts to marketing is finding the time to do it. Sure we use programs like Social Pilot and Hootsuite to help us schedule post and share from different sites, but that is only a part of the work involved. We still have to be on the networks to like and share, interact with our followers and engage the users. This means we have to find a balance between everything else we do and marketing.
One tool you can use to accomplish this is Google Calendar or any calendar that helps you to keep track of what you do each day. Personalized Marketing Inc uses Google Calendar, we actually have a few of them. I personally have 3 primary calendars, one for #PMInc events, PM Inc Daily task and a personal one. I put all my family's appointments, my appointments, church events and pretty much anything that is not work related on it. I then add the Personalized Marketing Inc daily task as a guest. This puts the event on the Private Calendar for PM Inc's daily list. I always set the personal events to private so I do not worry about it appearing on the Public Version. The PM Inc Daily task is also set to private since we value our client's privacy. The Primary Personalized Marketing Inc calendar is set to public, this calendar has live events that either I or PM Inc is represented at. We also include public events for our clients on this calendar.
So today's task for Real Marketing for Organic Growth is to find time for Marketing.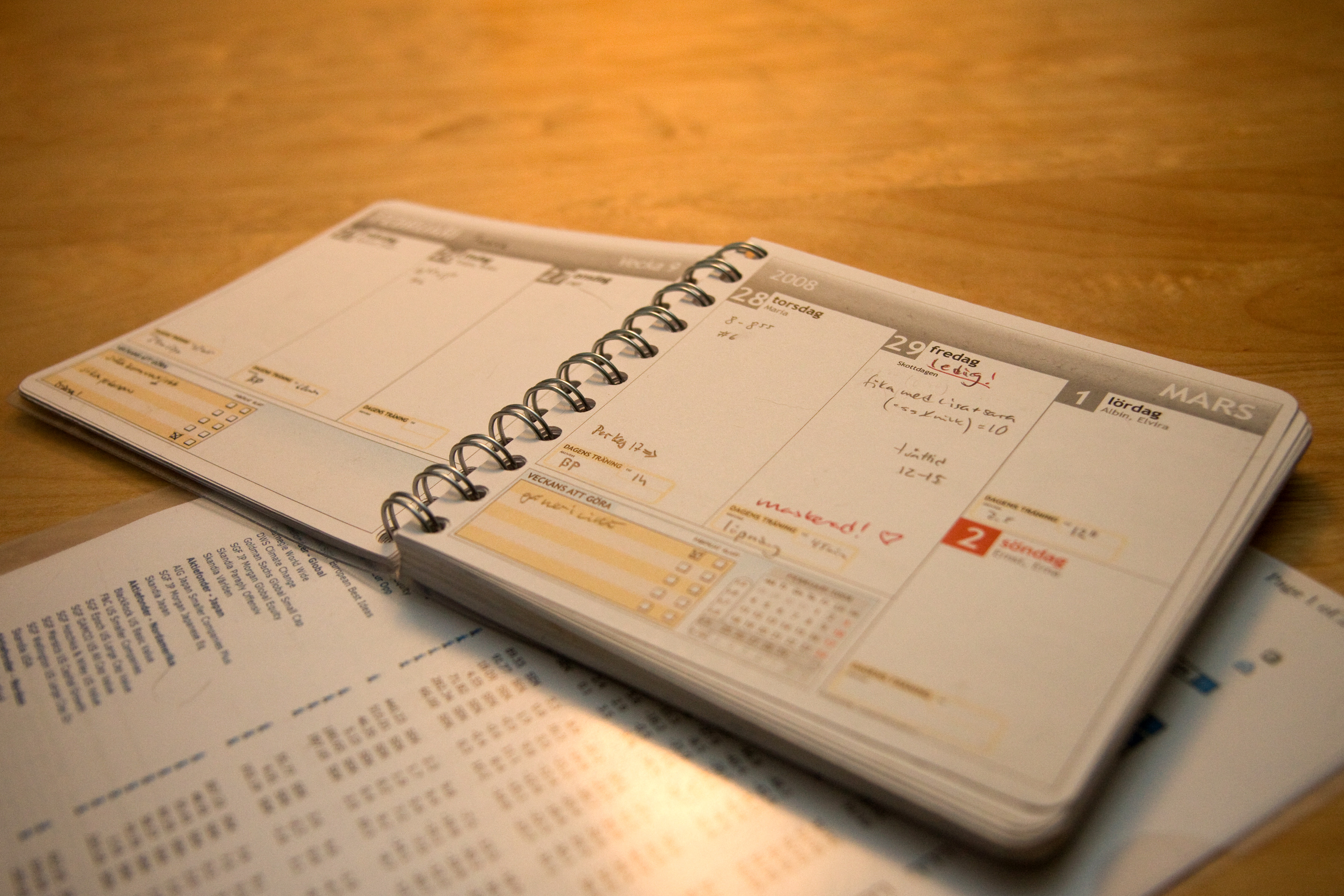 Now you can choose to have just one calendar, however, you might decide that you want to start using your Smartphone's Calendar to find the balance between life and marketing.
1 1. Setup or Get a calendar (You can use a desktop calendar, just make sure you always carry it with you)
Determine how many calendars you need. Remember only do the amount you are willing to dedicate time to add events to.
2 2. For each day of the week fill out your daily obligations
Include everything … Getting family up, doing breakfast, going to the store, doctor appointments, other obligations, writing time
Now that you have filled in everything else, look at it and see where you can find time for marketing. Don't panic if you realize you only have 15 minutes on one day and 30 on another day. Consistent marketing is not the minutes you spent but taking time each week to do it.
Time To Start A New Habit
The average person takes 30 days to start a new habit, so for the next month, you are going to have to commit to not just filling out your schedule but sticking to it. Let's say you see you have 30 minutes each day free, it might be different times each day but it's there. Put in that slot, FOCUS ON MARKETING. This is the time that you are going to dedicate to just marketing. You are going to pick a social network, check your notifications, share fan post and see what they are up to.
Granted knowing your fans, focus groups, ages, locations, times they are on helps but that requires a bit more knowledge of Analytics.
Tools We Use:
Social Pilot http://www.socialpilot.co?refer=KFTFLIPA
Google Calendar
Google Drive
Canva https://www.canva.com/personalizedmarketinginc
Siteground https://www.siteground.com/recommended?referrer_id=7588908
RiteTag https://ritetag.com/hashtag-search
#PMInc #RealMarketing #OrganicGrowth
Popular Hashtags on Marketing
#marketing #growthhacking #startup #success #digitalmarketing #networkmarketing #onlinemarketing #contentmarketing #socialmediamarketingtips #marketingagency #socialmarketing #growthhacking #startup #seo #tech #entrepreneur #socialmedia #business #twitter #instagram #work #startups #success #tips #smm #world #motivation #web #content