Personalized Marketing provides our clients with a variety of services tailored to them. We offer consulting services based on your needs. Personalized Marketing is known for offering a professional yet personalized approach to fit the needs of you and your company. Our clients range from Individuals, to Small Businesses and Large Companies.
We specialize in the following areas:
Website Development, Website Designs, Website Maintenance, SEO,
Social Site Marketing, Video Marketing, Public Relations, & Event Planning,
We also help with Business Management Support & Other Services
All our Services and Packages can be ordered on a As-Needed, Month-by-Month or a Multi-Month basis. Personalized Marketing & Promotions is mainly an online service, however we have and will continue to schedule events near you be it over the phone, through faxes, or regular mail.
---
Websites, Social Networks
Web Site Design (HTML, HTML5 / CSS)
WordPress Theme Design
Blog Designs
Twitter / Facebook Designs
Website Search Engine Optimization
Marketing & Promotions
Full PR Management
Event Marketing
Partial Marketing

Newsletters | Videos | Editing & Proofreading
*NEW SERVICE*
We can help you convert your Manuscript into an eBook or printable Perfect Bound Printing.
Conversion Options (EPUB, PDF, HTML, MOBI, Kindle and More)
Free Consultation Required Prior to Ordering Contact Us Today
If it's not listed then email us… We'd be happy to take a look at your project
Schedule Your Consultation Today
---
Time to Trim a little off just in time for the Holidays at Personalized Marketing…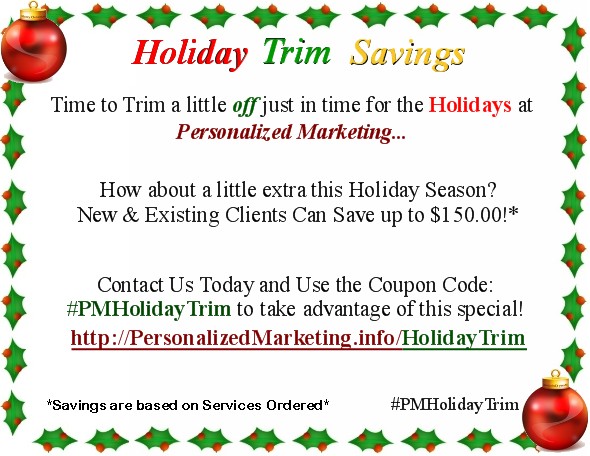 Personalized Marketing realizes that we would not be where we are today without some of the outstanding clients we have worked with over the years. So this Holiday Season we want to give a little back…
How about a little extra this Holiday Season? New & Existing Clients can SAVE up to $150.00!*
Current Clients of PM can get either:
15% Discount on 3-Months of Services or 1 Month Free on any 6-Months or More Order.
New Clients order 3-Months or More of Service and Receive ½ off 1 Month.*
*All Savings are based on Services Ordered*
*New Client Discount Applied on or after 3rd Month of Service.
*$150.00 in savings is based on the level of service purchased.
---
Testimonials
Karenne, CTR – Coffee Thoughts Website Design
"It is beautiful! You did a marvelous job! I am so excited! I knew you would do something spiffy!"
~ Karenne, Coffee Time Romance, Coffee Thoughts http://coffeetimeromance.com/CoffeeThoughts/
UpWork Clients
Testimonials from the clients serviced through oDesk by Dee Owens…
Branchout on FB
"Dee is a talented multi-tasker who excels at guiding and mentoring!" From Jeannie Faulkner Barber on Jun 25, 2011 "Dee is a marketing guru with visionary ideas and ability to articulate complicated ideas clearly and elegantly." From Samuel Stone on Jun 24, 2011 "Dee works hard at everything she does." From Denise Fleischer  on Jun(…)
LinkedIn
"Dee is a highly creative person willing to go the extra mile for our clients and prospects…."
Impact Fitness
Client Testimonial – Niall Traynor of Impact Fitness Inc & Pickering Fit Body Boot Camp & How Do I Get Great Legs? Had this to say: "Dee's consistent service and attention to detail not only drove my business but her reliable high quality performance gave me peace of mind. I couldn't recommend her online marketing(…)
Jaxx Steele
Although I had my website done by someone else, Dee Owens has not only tweaked it to make it more user friendly, but has added awesome, eye catching graphics that make it more appealing. She maintains my site and keeps it updated as well. Dee stays in communication with her clients and is always available(…)
Dana Littlejohn
I have enjoyed having Personal Marketing Promotions handling my promotions and updating my website. Dee is very hands on and makes herself available to answer any questions you may have. I am unable to promote like I want to because of a full time job and she keeps information about my books flowing around the(…)